Nintendo made a big splash at E3 this year when they announced that they would be lending two of their most iconic characters to Activision for the upcoming (all but guaranteed smash hit) Skylanders Superchargers. Knowing that Donkey Kong and Bowser will be in the upcoming game got us to thinking. "What other Nintendo characters would make a great fit for the Skylanders universe?"
First off, it is pretty clear that they avoided including any of the human characters from the Nintendo universe. They chose a giant ape and a dragon-turtle-thing so I am going to assume that Mario, Luigi, and the gang are out.
Here are some of my suggestions. I would love to hear yours in the comments!
Kirby
The biggest challenge to be found in making Kirby a Skylander would be implementing his skillset where he eats his enemies to take on their powers. But, that is a design issue that could be overcome. They've got a bunch of smart people over there. They could manage.
Kirby has the advantage of being both easily recognizable AND adorable. He also had a wide array of abilities that could be him a lot of fun to play.They have had characters before that used air to move enemies around the battlefield (Jet-Vac), but he also has added mobility in that he can fly.
Yoshi
Yoshi has been a mainstay in Mario games for a long time and has even gotten a few of his own. He would be a great fit as a Skylanders character as well. The ability to use his tongue to capture enemies and convert them to ammunition for other abilities would be a great mechanic to fuel some very cool powers. It would also give players some potentially cool powers for interacting with the environment.
The Ice Climbers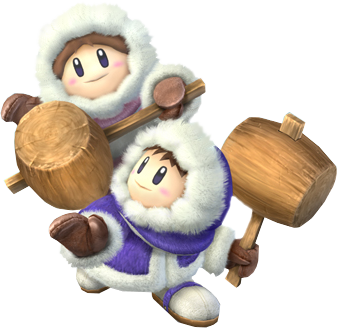 Ok this might be cheating a little bit since they are technically people like Mario and Princess Peach, but a pair of chubby, hooded mountain climbers could be an exception. They two of them appeared most recently in Smash Bros. Melee on the GameCube and were fan favorites for a long time there. I can easily imagine a whole move-set built around spinning around the different levels swinging their hammers.
The challenge would obviously be that the younger player base of Skylanders might not recognize them since they are not frequently in games. This might even be a real deal breaker, but man would it be fun!
Pikachu
This right here. This is the real deal. Putting the alpha pokemon into Skylanders could very well cause a black hole to form on Earth. I am hard pressed to imagine a character that could guest star in Skylanders that would draw any more buzz.
Pikachu even fits into the Skylanders lore as there are plenty of Pokemon toys lying around. I could imagine a whole host of cool powers for him to use that would fit in quite well with the Skylanders Universe too.
sport le plus efficace pour maigrir